8 reasons why StarForce Reader is better than Adobe Acrobat Reader
26 Oct 2016
PDF is one of the most popular formats for electronic documents that can keep fonts, images and the layout of an original document in original appearance no matter on what OS and with what application the document was created. PDF is a recognized worldwide standard in the field of printing and sharing of protected electronic documents and blanks. PDF files are small, and they are self-sufficient.
The only drawback is that you need to install additional software to read documents. So what is the program can deal with it in the best way? An ordinary user immediately thinks about Adobe Acrobat Reader, a regular and habitual tool for PDF viewing. But this program has a lot of worthy alternatives.
StarForce Technologies has developed its own viewer for PDF documents, which is not worse (and in some cases is better) than the development of Adobe. Let's compare StarForce Reader and Adobe Acrobat Reader.
Simplicity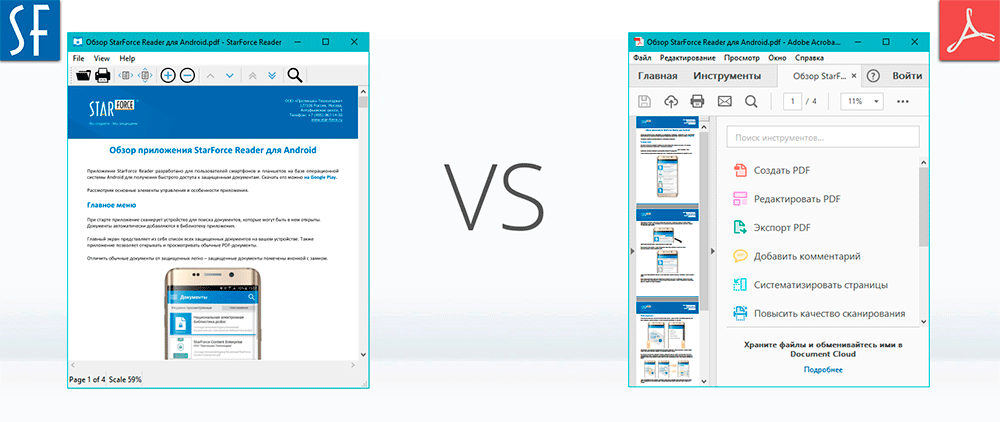 The old versions of Adobe Reader have more or less clear and simple interface, but the reader became overloaded with the latest updates. Just open and look at the pile of panels, tabs and other items. We lose the basic sense of such programs - viewing a document. StarForce Reader is not forcing users to all the rules. It's just a program for viewing PDFs: open-read-close.
Clarity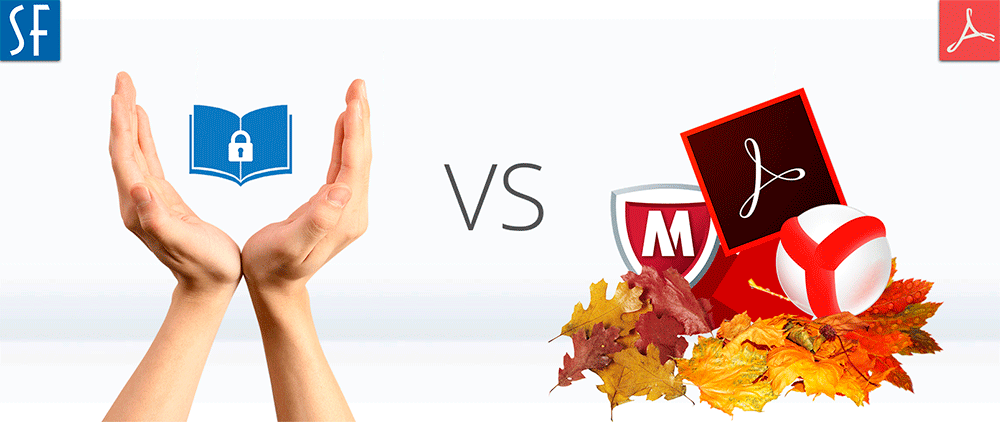 TV ads, puff pieces, banners on websites and search engines – all of that has become the part of our lives. Sometimes we don't even notice how we go to the websites that we are not interested, or install the programs that we do not need. It happens with free applications too.
When you install Adobe Acrobat Reader you need to be watchful. Because along with the reader you risk to install antivirus, browser, and even god doesn't know what else.
StarForce Reader is not forcing a choice of installing third-party software and using unnecessary web services. We try to be as open as possible and provide only the functionality that is needed without the installation of hidden advertising and partner applications.
Rapidity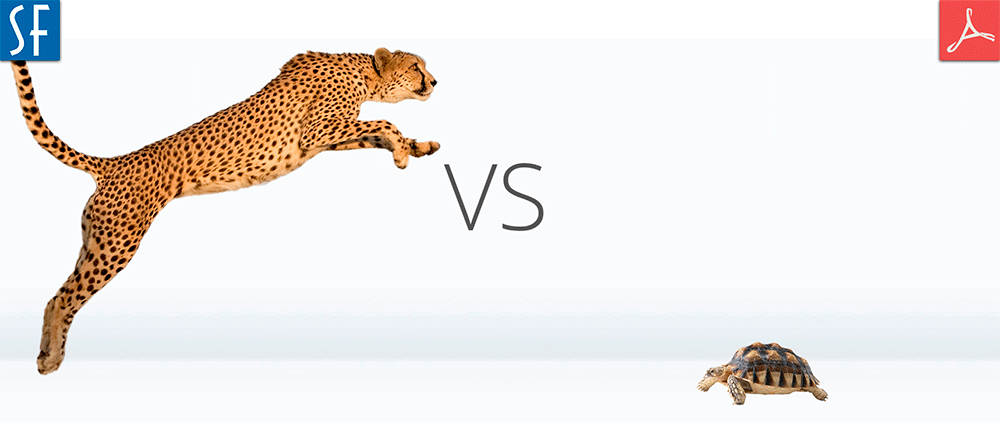 How much time you need to brew a morning coffee? What do you prefer a Turkish coffee pot or a French press? Do you drive a car or go on foot? So are you ready to spend even more time to wait when a program will be started on your PC?
StarForce Reader opens immediately. Adobe Acrobat Reader would take a little more time to do that. Most likely you will not notice the difference, but let's count. month that can be spent on more enjoyable things than waiting. For example, to catch a pair of Pokémons.
Lightness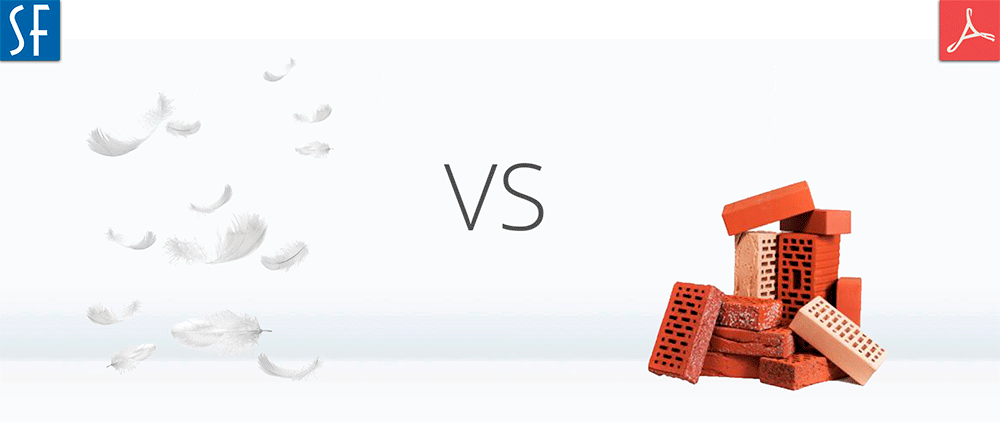 As we wrote earlier, in order to open a PDF-document you should download a special application first. In the age of ubiquitous unlimited internet, the downloading of large files is not a big problem, but what if the installation of a program is limited by the system resources and free space on the hard disc. The size of installation package for StarForce Reader is about 19 mb. For Adobe Acrobat Reader it's over 49 mb. What application will you choose?
Cross-platformity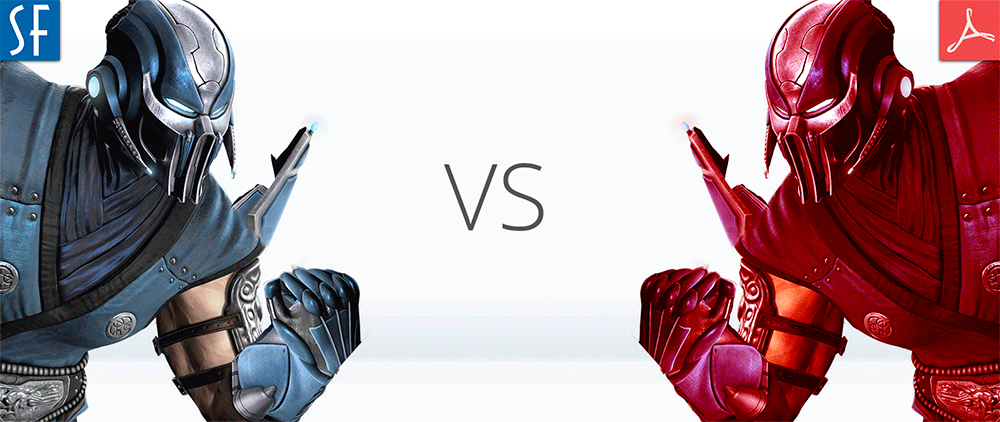 To be a competitor of the main viewer of PDF-documents is not easy. Both viewers are cross-platform (have been released under different OS), and their mobile versions have the same software design as desktop versions. We won't be shy and add couple extra points to StarForce Reader just because it is not inferior to Adobe Acrobat Reader in this paragraph.

Variety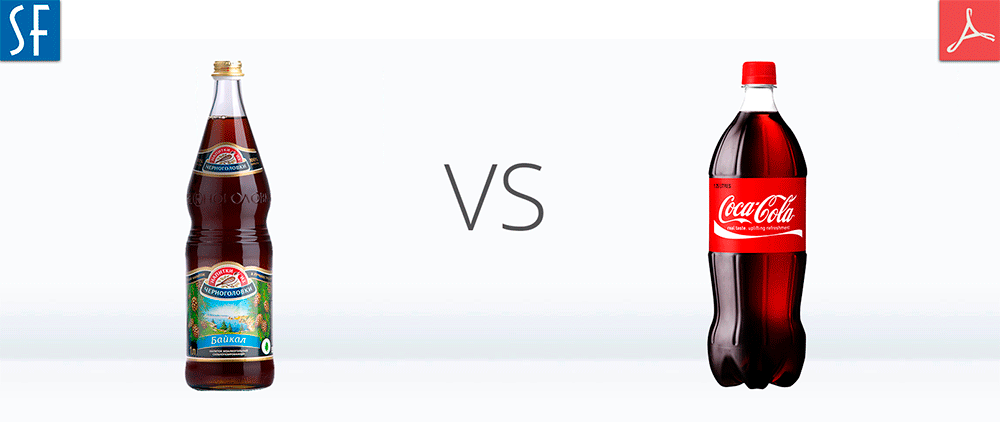 In recent years, a national pride has become an important feature of world politics. Of course, this is connected with the political situation and raising the perception of patriotism to a new level. So and we did not stay away from this issue. Support domestic producers! Download StarForce Reader! Read PDF only with it! Do not forget to tell about it all your friends. And ask friends to tell about StarForce Reader to their friends. House divided against itself cannot stand.
Protection and control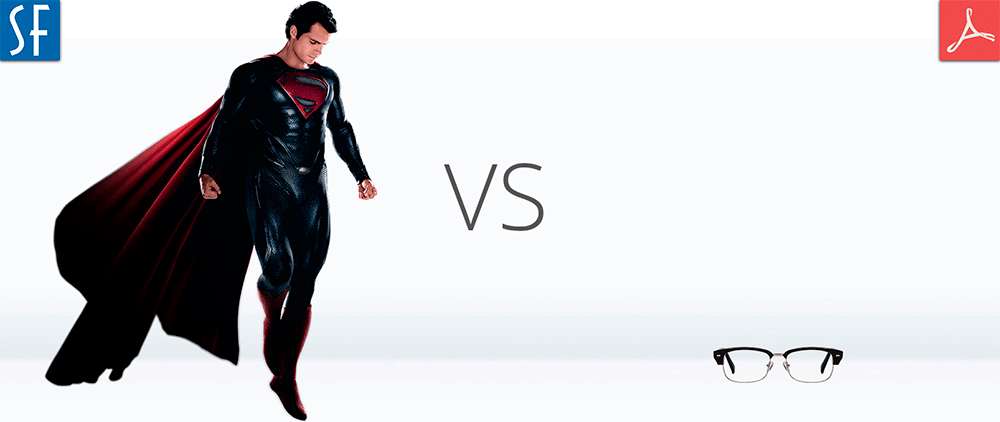 How often do you send electronic documents that contain sensitive information? Adobe Acrobat Reader has the ability to protect PDFs with a password. It can protect against the interception, but not against the fraud because the password can be sent along with the PDF file that can be viewed by anyone and anywhere.
What does StarForce Reader can offer in this case? In order not to clog your brain with the technical features, we can say simply - the program allows you to open the protected document only on a specific device, and only for a specific user. Any transfer, sale, donation and inheritance will not be able to open protected PDF file. Also you can check the fact of opening a document and its possible forwarding to third parties, who should not have access to it. Are you interested? Write us, and we'll tell more.
Calmness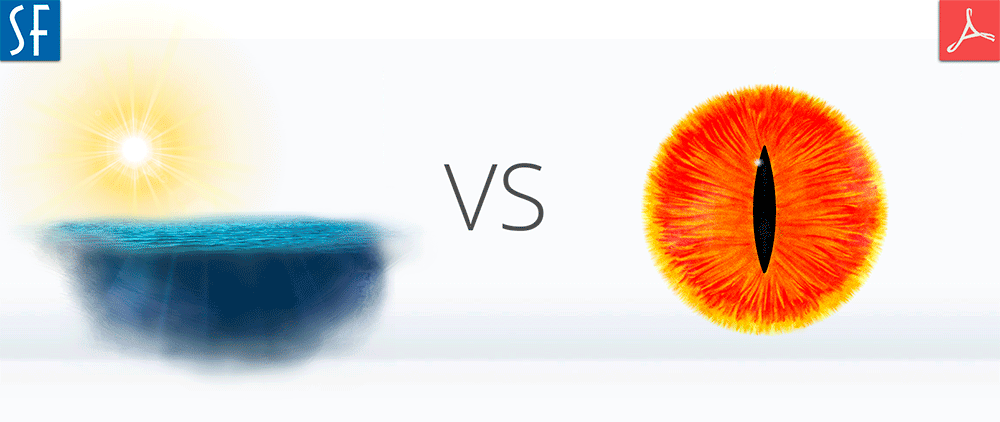 Peace of mind and inner harmony are a key to not only a happy life, but also a successful career. Stresses, sleep deficit, the desire to stand first - all these has a negative effect on the quality of life. Allow yourself to relax, at least while reading electronic PDF documents. It has long been known the effect of various colors on the emotional background. The blue (StarForce Reader) is the color of calm and relaxation, and the red (Adobe Acrobat Reader) is aggression. We think that you don't need some extra emotional upheavals.
Keep calm and use StarForce Reader!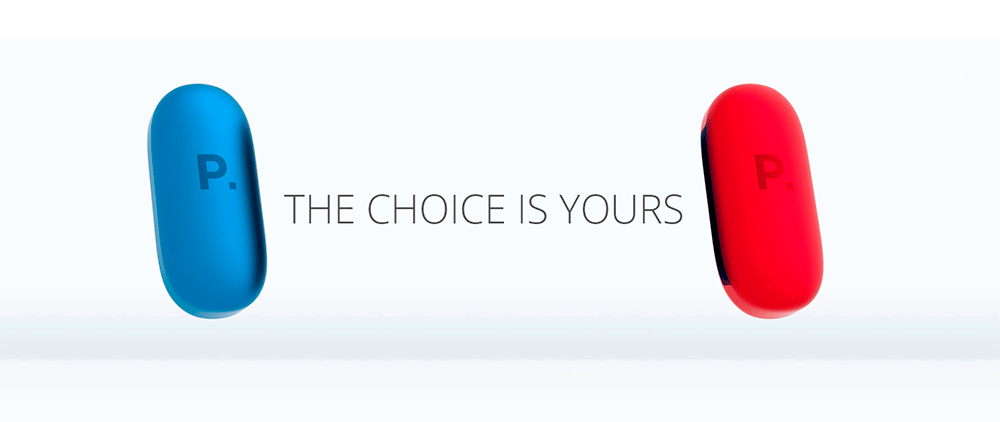 StarForce Reader for Windows: download
StarForce Reader for iOS: download
StarForce Reader for Android: download
StarForce Reader for macOS: download