Email tracking and protection against leakage
27 Sep 2017
I mostly use Outlook to work with emails and from time to time I feel a necessity to track the opening of my emails by the addressees. There are a lot of email trackers for Gmail but only a few are capable to work with the Windows client correctly. The idea of email trackers is old enough to invent tools to block email trackers. For example the Ugly email service detects components of some trackers and on the site you can see what trackers can be blocked.
And sometimes cruel monetization comes, as it happened with Signals when a CRM absorbed the tracker and now it is available only as a part of a big system on chargeable basis. So search of a good tracker never stops.
Email tracker from India
SalesHandy is a cloud-based Email Tracking Tool that allows you to get more things done with Gmail as well as Outlook. In addition to email tracking, it also provides many other useful features such as Mail Merge with automated follow-up, Attachment Tracking, Email Scheduling, Email Templates and much more. It provides a wide range of tools that enable you to easily organize and manage your sales process, and close deals faster and easier.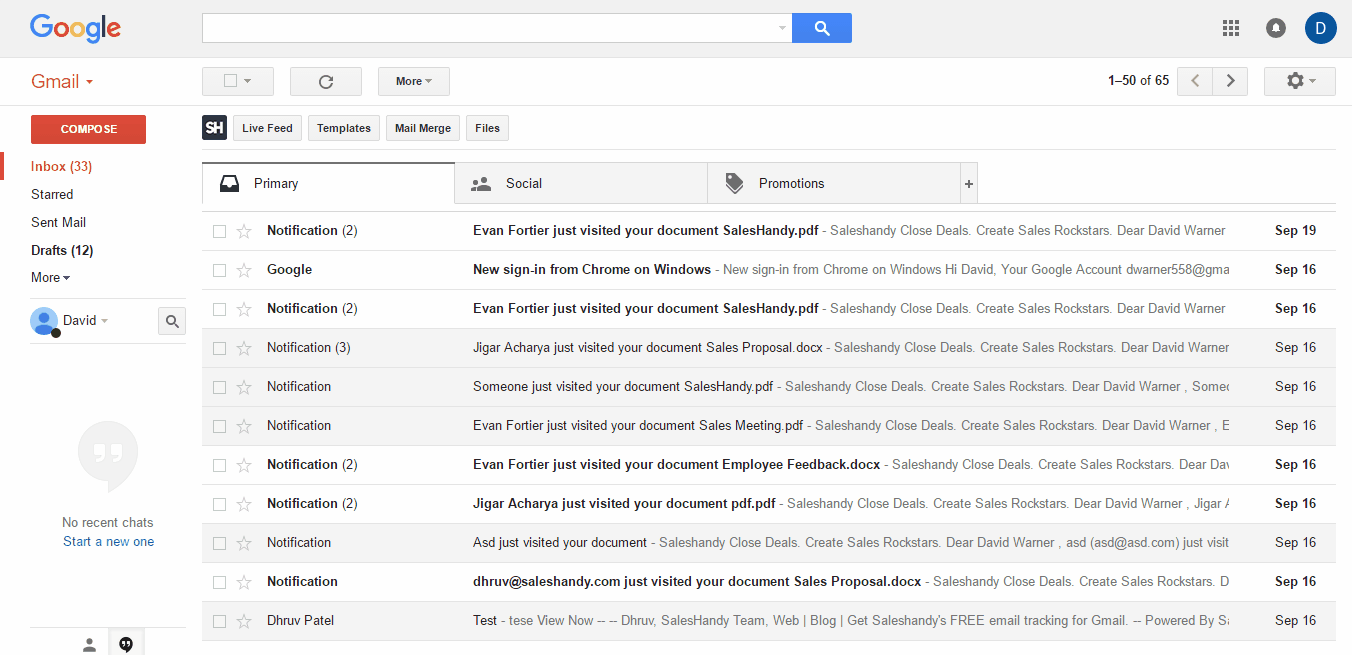 I tested it only for Outlook, as I need it for work. The interface was not friendly, but a video guide helped. The client for Outlook is not signed that looks suspicious because it is not secure. I downloaded it from the official site and decided to try (from the second attempt). And after installation and logging in, it started to work. Now I see that there is a delay between opening and notification but in common it works fine.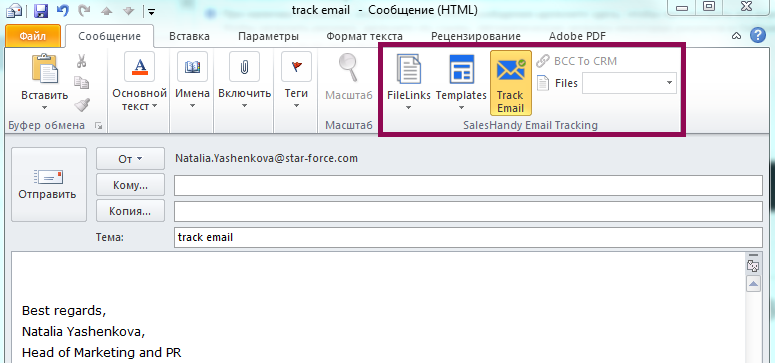 Protection against leakage and forwarding
SalesHandy allows to track files opening. To track a file, first you need to upload it on the tracker's site. You can add a password but it doesn't help to prevent leakage. The file together with the password can be sent to the third party. When a user opens your file you get a notification on your email where you can find time and IP address of the user.
Much more reliable protection against copying and leakage is provided by SFLetter.com. Protected emails and attachments can be sent through the site for free. To connect your mailbox to Outlook via IMAP and SMTP, you need to purchase a Premium or Business account. Since SFLetter.com uses standard protocols, the service works not only with Outlook, but also with mobile clients and other email applications. But this versatility has its price: there is no tick to select to send a protected email. The solution is rather elegant - put a special mark in the subject of the email: [p] - to protect the text of the message and attachments, [pa] - to protect only attachments.
This is an outgoing email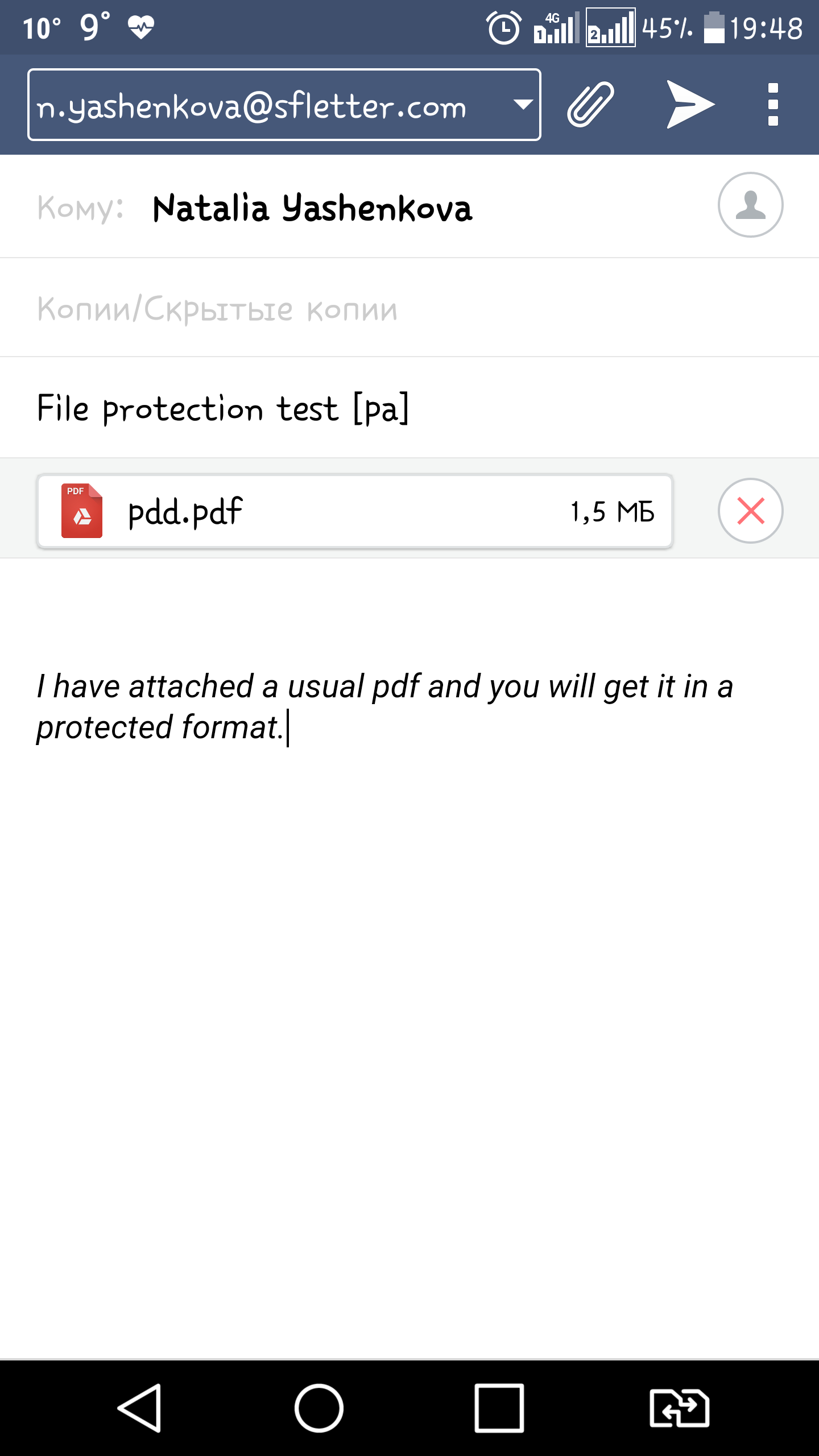 Here you can see an incoming email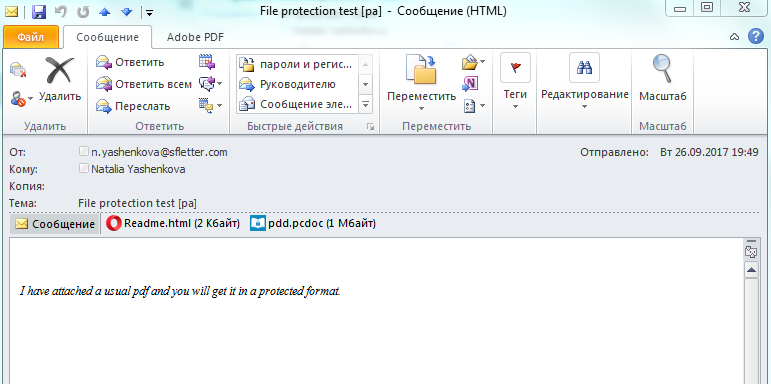 You do not need to upload files beforehand – you just attach them as usually and the addressee will get it in the protected format. The recipient downloads a special program to open the file and the access is activated by binding the hardware and software parameters of the user's device to the protected file (that is how a DRM system works). This way leakage is prevented – the file cannot be opened on any other device.
Who needs such a level of protection? It can work for sales staff that sends proposals with secret conditions and prices. More than that this service suits for consulting and analytical companies, which are interested in safe delivery of the documents with minimal threats of interception and leakage.
A Premium account has an option to limit time of access or revoke access in real time.

A Business account has an option to use a mailbox with your own domain name. But all basic functions of SFLetter.com including email opening tracking are available for free.