StarForce at InfoSecurity Europe!
20.04.2007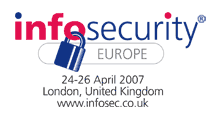 StarForce invites our clients and expo visitors to meet with a StarForce representative during Infosecurity.
The expo will take place in London, UK 24-26th April 2007. Anyone interested in StarForce products will have a chance to learn about the latest innovations.
StarForce representative will be happy to answer any questions regarding StarForce products and technologies.
Visit us at the booth of our daughter company on the ground floor booth B123 S.N.Safe&Software.
About StarForce Technologies
StarForce Technologies (www.star-force.com) is a leading vendor of information protection, copy protection and code obfuscation solutions for software, electronic content and audio/video files. Since 2000, StarForce has been successfully developing and implementing its state-of-the-art security solutions, providing copyright and intellectual property protection worldwide. Two of these solutions were transformed into StarForce cloud services: sfcontent.com protects e-Documents against illegal copying and distribution and sfletter.com secures emails.
StarForce is a reliable and responsible Technological Partner for enterprises potentially incurring losses due to cyber-gangs, hackers, software piracy, unauthorized data access and information leaks. StarForce's customers are Russian Railways, Corel, 1C, Mail.ru, Aeroflot, SUN InBev Russia, AMD Labs, ATC International, MediaHouse, Russobit M, New Disc, Buka, Snowball, 2Play, GFI, CENEGA, Akella, etc.
Press contacts:
pr@star-force.com