For StarForce Technologies CeBIT 2006 was remarkable for one of the most outstanding booths, constant attention of German press and… booth breaking!
22.03.2006
March 9-15, 2006 StarForce Technologies has traditionally participated in the world's leading information and computer technologies fair CeBIT in Hannover, Germany. In the exhibition framework the company presented several innovations in software copy protection and information security fields on its moderate but very outstanding booth. The latter was a subject of StarForce German and international partners and clients constant attention.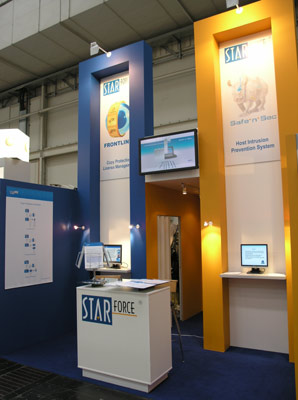 During the fair visitors had a chance to ask StarForce experts and developers specific questions about the new version of FrontLine 4.0. Protection options have been significantly extended in the new version. Basic 64-bit applications protection has been developed which is the first step to 64-bit applications full-scale protection development in the upcoming versions.

FrontLine 4.0 is remarkable for its higher resistance to cracking and emulation. Besides, protection from emulators and filters has been improved in the disc version including protection from Daemon Tools 4.0. In FrontLine 4.0 DVD protection based on Read DVD Information has been implemented. Certainly the most significant innovation is the service of automatic SF FrontLine drivers' deletion. The option was integrated according to end users' numerous requests. Now after deinstallation of all protected applications which use protection drivers the latter are automatically deleted by special service. In spite of constant Internet forum No frustrated users that like to write about StarForce issues in the internet forums have been noticed on StarForce booth during the fair.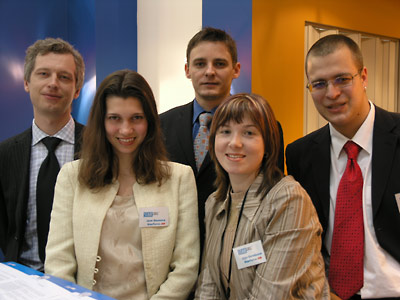 Among the solutions of IT security sector which occupied halls 6 и 7 of Messe fair, StarForce presented new English 2.0 version of Safe'n'Sec Business software for protection of workstations in corporate networks against external and internal threats and vulnerabilities. The solution includes extended set of client modules options as well as well as opportunity of individual setting considering specific requirements of the company's corporate network.

Safe'n'Sec solution, its technology and features unique for IT security software aroused high interest among journalists of the top German IT magazines. In particular such Safe'n'Sec features as the option of trusted applications list creation, access of various applications to data files rules setting (for ex., Excel files reading from and writing to folder A only), history info of standard program behavior usage (several steps rule), blocking of specially ordered malware not widely spread in Internet etc. were highly appreciated during numerous appointments with mass media representatives.

Such an interest of mass media to PC proactive protection and HIPS-class systems is understandable as today traditional signature-based information security software recedes into the background as behavior analysis solutions become the mainstream providing more efficient and complete data protection. First signatures of today's mainstream appeared more than 2 years ago when researches on HIPS-class systems started to be published in Western Europe and USA with conclusions like "the best HIPS will use multiple protection techniques" http://whitepapers.zdnet.co.uk/0,39025945,60141981p-39000625q,00.htm This tendency was much more obvious on CeBIT 2006: the majority of IT Security exhibitors announced their proprietary proactive protection solutions coming soon. However very few of them really have software able to block malware by means of behavior analysis!

And more! CeBIT 2006 will for years stay in the memory of StarForce staff because of outrageous accident. Two notebooks with important corporate info were stolen from StarForce booth the last night of the fair. Equipment loss and door-lock forced were found March 15, in the morning. Messe police was immediately informed about the fact however the info the notebooks contained has been protected from unauthorized access so malefactors failed to use confidential info anyway!

About StarForce Technologies
StarForce Technologies (www.star-force.com) is a leading vendor of information protection, copy protection and code obfuscation solutions for software, electronic content and audio/video files. Since 2000, StarForce has been successfully developing and implementing its state-of-the-art security solutions, providing copyright and intellectual property protection worldwide. Two of these solutions were transformed into StarForce cloud services: sfcontent.com protects e-Documents against illegal copying and distribution and sfletter.com secures emails.
StarForce is a reliable and responsible Technological Partner for enterprises potentially incurring losses due to cyber-gangs, hackers, software piracy, unauthorized data access and information leaks. StarForce's customers are Russian Railways, Corel, 1C, Mail.ru, Aeroflot, SUN InBev Russia, AMD Labs, ATC International, MediaHouse, Russobit M, New Disc, Buka, Snowball, 2Play, GFI, CENEGA, Akella, etc.
Press contacts:
pr@star-force.com