Meet StarForce at CeBIT 2008
24.01.2008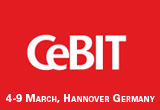 You can meet the StarForce company representatives in CeBIT - the biggest trade show for the ICT sector worldwide in Hannover, Germany from the 4th to 9th March, 2008. Traditionally StarForce will represent the newest products and technologies.

Every year StarForce represents new developments in software protection sphere. This year there will be new product lines for protection of business software of different types, corporate software and digital documents, that will be demonstrated in CeBIT. Among them we can mark StarForce Corporative, StarForce Crypto and StarForce Content.

Alongside with this there will be the newest "Disc Free" technology for game market demonstrated, that allows users make back ups of licensed discs, protected against copying by StarForce solutions. This technology is created for increasing of convenience of using game products, protected against copying.
Meet StarForce representatives at the Hall 6 stand H61.

To arrange a meeting contact sales@star-force.com.
About CeBIT
The biggest trade show for the ICT sector worldwide CeBIT has been taking place in Hannover for more than 20 years. As the figures demonstrate, the opportunities are international: some 6,153 exhibitors from 77 countries and 480,000 visitors from all over the world (379,000 of them professionals) attended CeBIT 2007.
About StarForce Technologies
StarForce Technologies (www.star-force.com) is a leading vendor of information protection, copy protection and code obfuscation solutions for software, electronic content and audio/video files. Since 2000, StarForce has been successfully developing and implementing its state-of-the-art security solutions, providing copyright and intellectual property protection worldwide. Two of these solutions were transformed into StarForce cloud services: sfcontent.com protects e-Documents against illegal copying and distribution and sfletter.com secures emails.
StarForce is a reliable and responsible Technological Partner for enterprises potentially incurring losses due to cyber-gangs, hackers, software piracy, unauthorized data access and information leaks. StarForce's customers are Russian Railways, Corel, 1C, Mail.ru, Aeroflot, SUN InBev Russia, AMD Labs, ATC International, MediaHouse, Russobit M, New Disc, Buka, Snowball, 2Play, GFI, CENEGA, Akella, etc.
Press contacts:
pr@star-force.com