StarForce participates in Media-Tech 2008
01.04.2008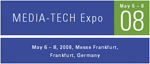 StarForce representatives will visit the Media-Tech international exhibition and conference on multimedia production technologies in Frankfurt from the 6th to the 8th of May 2008.

Every year there is the Media Tech exhibition and conference on multimedia production technologies in Frankfurt. This year also Media-Tech will not change its traditions and will again become a platform where the leading members of multimedia industry will demonstrate their new products and technlogies. New products for optical discs of future formats like Blu-Ray and HD-DVD production will be demonstrated at the exhibition.

«This year we decided to participate only as visitors. But inspite of this fact our aims are to expand our plant partnership network, demonstrate new StarForce technologies, and discuss problems and desires of our current and potential clients. This exhibition opens up a lot of possibilities to us in meetings and negotiations», - Gurminder Sachdev, StarForce International sales and business development director says.

To arrange a meeting with the StarForce representative phone to Moscow office number (+7495)967-14-50 or write a letter to e-mail address: sales@star-force.com. Vadim Ermolaev, Executive Plant Manager of StarForce is to visit Media-Tech as the StarForce representative.
About StarForce Technologies
StarForce Technologies (www.star-force.com) is a leading vendor of information protection, copy protection and code obfuscation solutions for software, electronic content and audio/video files. Since 2000, StarForce has been successfully developing and implementing its state-of-the-art security solutions, providing copyright and intellectual property protection worldwide. Two of these solutions were transformed into StarForce cloud services: sfcontent.com protects e-Documents against illegal copying and distribution and sfletter.com secures emails.
StarForce is a reliable and responsible Technological Partner for enterprises potentially incurring losses due to cyber-gangs, hackers, software piracy, unauthorized data access and information leaks. StarForce's customers are Russian Railways, Corel, 1C, Mail.ru, Aeroflot, SUN InBev Russia, AMD Labs, ATC International, MediaHouse, Russobit M, New Disc, Buka, Snowball, 2Play, GFI, CENEGA, Akella, etc.
Press contacts:
pr@star-force.com