StarForce Technologies: Meet us at Systems 2008
21.10.2008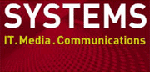 The StarForce Technologies company takes part in Systems 2008 exhibition held traditionally in Munich since the 21st to the 24th of October 2008. The company not only presents the new opportunities of its products but also demonstrates the software protection process and provides a unique service to the market.

The StarForce Technologies company participates in the international fair of information technologies, telecommunications and novelties in the field of media - Systems 2008. This year is a 10-year anniversary of StarForce dealing at the market. The company's stand is located at the information security zone – IT Security Area. The StarForce representatives demonstrate solutions for business software protection and individual solution for IT-Security, tell about changes in the StarForce product line and new unique services. Besides, all persons can visit the stand 612 in Hall B3 and watch the protection process just at the stand.

You can make an appointment with StarForce representatives phoning in our office on the phone +7-495-967-14-50 or writing a letter to sales@star-force.com.
About Systems
The Systems exhibition is the largest event in the world devoted to information-communication technologies. More than 1200 exponents from 28 counties of the world will demonstrate their products. It is expected that more than 50 thousand people - the software developers, representatives of tv- and radio broadcasting companies, mobile operators, computer centers and shops, WEB-designers, the enterprises of wholesale and retail trade will visit the exhibition.
About StarForce Technologies
StarForce Technologies (www.star-force.com) is a leading vendor of information protection, copy protection and code obfuscation solutions for software, electronic content and audio/video files. Since 2000, StarForce has been successfully developing and implementing its state-of-the-art security solutions, providing copyright and intellectual property protection worldwide. Two of these solutions were transformed into StarForce cloud services: sfcontent.com protects e-Documents against illegal copying and distribution and sfletter.com secures emails.
StarForce is a reliable and responsible Technological Partner for enterprises potentially incurring losses due to cyber-gangs, hackers, software piracy, unauthorized data access and information leaks. StarForce's customers are Russian Railways, Corel, 1C, Mail.ru, Aeroflot, SUN InBev Russia, AMD Labs, ATC International, MediaHouse, Russobit M, New Disc, Buka, Snowball, 2Play, GFI, CENEGA, Akella, etc.
Press contacts:
pr@star-force.com