StarForce Technologies took part in Systems 2008
28.10.2008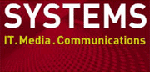 This year 27th largest exhibition of information technologies Systems 2008 was held in Munich since 21st to 24th of October. The StarForce Technologies company represented new advantages of its products for business field and proposed the protection process demonstration at the stand.

The 27th international fair of information technologies and telecommunications Systems 2008 was held in Munich since 21st to 24th of October. The main square of the exhibition – 5 pavilions – were took by companies representing solutions in the field of telecommunication and computers. The other part – pavilion B3 – was devoted to the proposals in IT-Security sphere. The StarForce Technologies stand was located in IT Security Area. The visitors' attention was attracted by a wide variety of products for different categories of client companies and for different application types.

«Leaving to Munich for the Systems 2008 exhibition we cherished the hope to conclude new agreements and contracts. This year the exhibition did not justify our expectations but was quite productive. It can be because of the extremely thematic variety of the exhibition, - Michael Kalinichenko, CEO of StarForce Technologies company shares his impressions. – The organizers of the Systems exhibition announced that this event passed the torch to two new events. The first one will be devoted to ICT market, the second – to IT-security field. As organizers haven't represented any detailed information concerning this one yet, our participation in this event is an issue».
About Systems
The Systems exhibition is the largest event in the world devoted to information-communication technologies. SYSTEMS is closing its gates for the last time in 2008 with a total of 1,061 exhibitors and some 39,000 visitors, ending its nearly 40-year history as one of the largest and most important B2B trade shows for the ICT sector. The 13 events in this year's program of related events were attended by some 4,000 visitors – a record-breaking number of participants.
About StarForce Technologies
StarForce Technologies (www.star-force.com) is a leading vendor of information protection, copy protection and code obfuscation solutions for software, electronic content and audio/video files. Since 2000, StarForce has been successfully developing and implementing its state-of-the-art security solutions, providing copyright and intellectual property protection worldwide. Two of these solutions were transformed into StarForce cloud services: sfcontent.com protects e-Documents against illegal copying and distribution and sfletter.com secures emails.
StarForce is a reliable and responsible Technological Partner for enterprises potentially incurring losses due to cyber-gangs, hackers, software piracy, unauthorized data access and information leaks. StarForce's customers are Russian Railways, Corel, 1C, Mail.ru, Aeroflot, SUN InBev Russia, AMD Labs, ATC International, MediaHouse, Russobit M, New Disc, Buka, Snowball, 2Play, GFI, CENEGA, Akella, etc.
Press contacts:
pr@star-force.com