Along with StarForce at CeBIT 2009
22.01.2009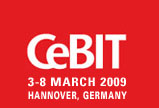 In Hannover, Germany from the 3rd to the 8th of March 2009 the largest worldwide exhibition devoted to IT-technologies CeBIT 2009 will be held. StarForce will appear in its new status of Technological partner and will demonstrate its newest solutions for multimedia and corporate segments.
StarForce participates traditionally at the largest IT exhibition CeBIT 2009. This year the company will present several new solutions for different segments of IT market simultaneously. Renovated solutions for protection of different types applications, corporate software and digital documents will be demonstrated at stand B58 in Hall 11.
The StarForce Technologies representatives will demonstrate software protection process online for all wishers. The company will announce a line of new services and actions within the exhibition as well. Representatives of software developers and publishers will be able to get a test account free-of-charge with a discount for a purchase of protection solutions afterwards.
To make an appointment, please, do not hesitate and contact: sales@star-force.com.
Contact for press: Dmitry Guseff.
About StarForce Technologies
StarForce Technologies (www.star-force.com) is a leading vendor of information protection, copy protection and code obfuscation solutions for software, electronic content and audio/video files. Since 2000, StarForce has been successfully developing and implementing its state-of-the-art security solutions, providing copyright and intellectual property protection worldwide. Two of these solutions were transformed into StarForce cloud services: sfcontent.com protects e-Documents against illegal copying and distribution and sfletter.com secures emails.
StarForce is a reliable and responsible Technological Partner for enterprises potentially incurring losses due to cyber-gangs, hackers, software piracy, unauthorized data access and information leaks. StarForce's customers are Russian Railways, Corel, 1C, Mail.ru, Aeroflot, SUN InBev Russia, AMD Labs, ATC International, MediaHouse, Russobit M, New Disc, Buka, Snowball, 2Play, GFI, CENEGA, Akella, etc.
Press contacts:
pr@star-force.com