StarForce took part in EduTech 2012 expo
12.10.2012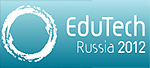 StarForce Technologies is a leading vendor of copy protection, licensing and code obfuscation solutions against software, electronic documents and audio/video files copying, cracking and illegal distribution successfully ended its participation in international electronic education expo-conference EduTech 2012.
During event StarForce in association with Skolkovo Foundation ran the lecture "How to secure and effectively distribute electronic information and software". Being the Skolkovo resident StarForce got the Grant for development of mobile software and content protection solution. Current project achievements were presented within the lecture.
Also, StarForce conducted the master-class session offered examples on protection implementation into various type of electronic information and content and methods of its distribution control.
Dmitry Gusev, StarForce's Marketing director deputy commenting the event said: "There were a lot of people from Moscow, Russia's regions, foreigners. Some of them were interested in web-content security, others asked for audio and video protection and DRM. The most interesting was to see how people react when they realized all advantages of implementing flexible licensing and control mechanism for their marketing needs. Perhaps, this very point initiated the most questions."
During 2 expo working days StarForce's booth was visited by more then 100 people. This proofs the great interest of business for reliable information protection when electronic education is popular more then ever.
About StarForce Technologies
StarForce Technologies (www.star-force.com) is a leading vendor of information protection, copy protection and code obfuscation solutions for software, electronic content and audio/video files. Since 2000, StarForce has been successfully developing and implementing its state-of-the-art security solutions, providing copyright and intellectual property protection worldwide. Two of these solutions were transformed into StarForce cloud services: sfcontent.com protects e-Documents against illegal copying and distribution and sfletter.com secures emails.
StarForce is a reliable and responsible Technological Partner for enterprises potentially incurring losses due to cyber-gangs, hackers, software piracy, unauthorized data access and information leaks. StarForce's customers are Russian Railways, Corel, 1C, Mail.ru, Aeroflot, SUN InBev Russia, AMD Labs, ATC International, MediaHouse, Russobit M, New Disc, Buka, Snowball, 2Play, GFI, CENEGA, Akella, etc.
Press contacts:
pr@star-force.com