November the 8th – global Usability Day
08.11.2012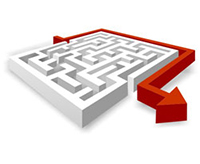 On the 8th of November the world celebrates the Usability Day. This day is particularly important for software vendors as the usability most often is the main step towards complex software popularity.
StarForce Technologies began to celebrate this day several years ago when company's management decided to remake many aspects of protection solution to make is simpler and more comfortable to use. Consumers of protected applications and games also weren't forgotten. Due to a number of changes in protection interface and implementation of several convenience options, StarForce protection became one of the most comfortable and compatible worldwide.
Company's clients receive regular updates. Protection Studio application got more comprehensive help section implemented. Protection implementation manuals transformed into video format for more convenience perception.
There were number of options for end-users were implemented: Automatic add of activations, full backward compatibility, help section on many languages and more. StarForce stopped to use low level drivers and now we can boast the highest compatibility rate with numerous hardware and software configurations.
Julia Titova, StarForce Vice President said:
"It's vitally important for us to have strong feedback from our clients and consumers. Just because of the fact that we applied the serious efforts to gather opinions, today we are proud of our achievements on the filed of compatibility and usability.
While developing its products StarForce Technologies follows the motto: "For those who aims not a function but a result, let the complex thing be simple to use."
About StarForce Technologies
StarForce Technologies (www.star-force.com) is a leading vendor of information protection, copy protection and code obfuscation solutions for software, electronic content and audio/video files. Since 2000, StarForce has been successfully developing and implementing its state-of-the-art security solutions, providing copyright and intellectual property protection worldwide. Two of these solutions were transformed into StarForce cloud services: sfcontent.com protects e-Documents against illegal copying and distribution and sfletter.com secures emails.
StarForce is a reliable and responsible Technological Partner for enterprises potentially incurring losses due to cyber-gangs, hackers, software piracy, unauthorized data access and information leaks. StarForce's customers are Russian Railways, Corel, 1C, Mail.ru, Aeroflot, SUN InBev Russia, AMD Labs, ATC International, MediaHouse, Russobit M, New Disc, Buka, Snowball, 2Play, GFI, CENEGA, Akella, etc.
Press contacts:
pr@star-force.com