StarForce will take part in Online Educa Berlin 2012
12.11.2012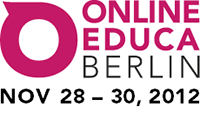 StarForce Technologies assigns its representatives at 18th international exhibition and conference Online Educa Berlin 2012. This event is dedicated to education and modern education technologies and will be conducted 28030 of November 2012.
Online Educa is the world biggest and oldest public event in the education field. It attracts participants and visitors from EMEA region, Asia, North and South America.
Together with exhibition there will be a conference where leading education specialists, teachers, professors, students, content and service providers discuss modern trends, issues and challenges in education industry.
At the conference StarForce's marketing director deputy Dmitry Gusev will keynote concerning effective measures towards content security and monetization. Courseware and curriculum developers, LMS and CMS vendors, educational organisation representative will be interested in actual trends of software piracy struggling, protection of educational content against leak and improper use.
StarForce will be present on booth #21 at Potsdam II hall. We invite everybody who cares about modern education to visit company's stand.
See you at Online Educa Berlin 2012!
About StarForce Technologies
StarForce Technologies (www.star-force.com) is a leading vendor of information protection, copy protection and code obfuscation solutions for software, electronic content and audio/video files. Since 2000, StarForce has been successfully developing and implementing its state-of-the-art security solutions, providing copyright and intellectual property protection worldwide. Two of these solutions were transformed into StarForce cloud services: sfcontent.com protects e-Documents against illegal copying and distribution and sfletter.com secures emails.
StarForce is a reliable and responsible Technological Partner for enterprises potentially incurring losses due to cyber-gangs, hackers, software piracy, unauthorized data access and information leaks. StarForce's customers are Russian Railways, Corel, 1C, Mail.ru, Aeroflot, SUN InBev Russia, AMD Labs, ATC International, MediaHouse, Russobit M, New Disc, Buka, Snowball, 2Play, GFI, CENEGA, Akella, etc.
Press contacts:
pr@star-force.com