StarForce Technologies is back from SeedForum Singapore
15.01.2013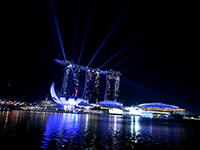 On the 9-11 of January Singapore welcomed 6th annual SeedForum event. StarForce Technologies took place in this competent investors-startups meeting for the first time.
Traditionally Asia shows high interest for mobile devices and technologies. Thus, Singapore was chosen as the main ground for StarForce Mobile promotion and look up for funds to complete the project.
The main aim of the forum participation was to find a strategic partner and investors for developing project of mobile applications and content DRM – StarForce Mobile. There were several rounds of negotiations took place with various interested people and companies from China, Thailand, Singapore, Korea and Europe. Most of them showed deep interest into the StarForce Mobile project.
Let us remind that StarForce Technologies has become Skolkovo Foundation resident and received soft money for initial stages of the project.
By now StarForce Technologies has almost done the initial project stage completing research of mobile technologies and developed further system architecture. The code development stage is directly ahead.
About StarForce Technologies
StarForce Technologies (www.star-force.com) is a leading vendor of information protection, copy protection and code obfuscation solutions for software, electronic content and audio/video files. Since 2000, StarForce has been successfully developing and implementing its state-of-the-art security solutions, providing copyright and intellectual property protection worldwide. Two of these solutions were transformed into StarForce cloud services: sfcontent.com protects e-Documents against illegal copying and distribution and sfletter.com secures emails.
StarForce is a reliable and responsible Technological Partner for enterprises potentially incurring losses due to cyber-gangs, hackers, software piracy, unauthorized data access and information leaks. StarForce's customers are Russian Railways, Corel, 1C, Mail.ru, Aeroflot, SUN InBev Russia, AMD Labs, ATC International, MediaHouse, Russobit M, New Disc, Buka, Snowball, 2Play, GFI, CENEGA, Akella, etc.
Press contacts:
pr@star-force.com