StarForce Player - a New Era of Playing Protected Video and Audio Files
31.01.2018
Dear users!
We are glad to present you our new application - StarForce Player, a free multimedia player for playing protected audio and video files. It completely changes the scheme of working with protected files - you install the player only once and then can play any audio/video track or playlist on the device.
The main differences from the old player are:
| | |
| --- | --- |
| | StarForce Player is downloaded by a direct link and installed once for all workspaces. |
| | The app works as a usual player, so in addition to protected files you can play other files in standard formats. |
| | Cross-platform solution. Currently StarForce Player is available only for Windows (x86, x64). We are working hard on developing the app for macOS and Android, which in the future will allow users to play protected videos on a convenient operating system. |
Already now you can try protection with StarForce Player. To do so, select option 2 while creating the test workspace.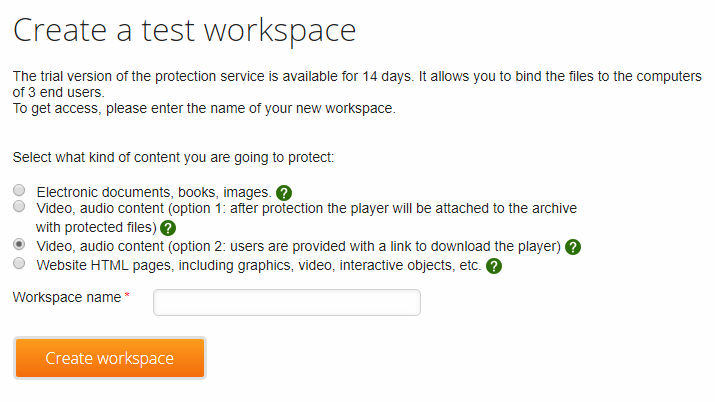 Learn more information about StarForce Reader and download it you can on the product page.
Protection is carried out only on the SFContent.com website. To use a new type of protection, you need to open a new workspace. Current customers can take advantage of special conditions until the end of February.
About StarForce Technologies
StarForce Technologies (www.star-force.com) is a leading vendor of information protection, copy protection and code obfuscation solutions for software, electronic content and audio/video files. Since 2000, StarForce has been successfully developing and implementing its state-of-the-art security solutions, providing copyright and intellectual property protection worldwide. Two of these solutions were transformed into StarForce cloud services: sfcontent.com protects e-Documents against illegal copying and distribution and sfletter.com secures emails.
StarForce is a reliable and responsible Technological Partner for enterprises potentially incurring losses due to cyber-gangs, hackers, software piracy, unauthorized data access and information leaks. StarForce's customers are Russian Railways, Corel, 1C, Mail.ru, Aeroflot, SUN InBev Russia, AMD Labs, ATC International, MediaHouse, Russobit M, New Disc, Buka, Snowball, 2Play, GFI, CENEGA, Akella, etc.
Press contacts:
pr@star-force.com