News
10.12.2012
One cannot imagine modern education without the Internet. The global network has become not only the means of forwarding educational information, but also a virtual classroom that can accommodate thousands of students simultaneously.
The State and private companies are implementing the Learning Management Systems (LMS) that manage all the aspects of adaptation, education and evaluation of the employees.  The LMS also allows storing the electronic educational information, carrying out the webinars, online meetings with the remote employees and a great deal more. There is even a staff recruitment module!
Modern universities do not fall behind either, and are widely implementing electronic education systems, sets of electronic education courses, workbooks and textbooks. Moreover, timetables, student record books and examination results are being converted into electronic format. Training centers now possess electronic libraries and archives that store terabytes of data.
Many of the secondary schools are widely implementing such applications as electronic record books and timetables. Pupils are using electronic courses and books for their education at school as well as at home.
Electronic distance education is especially important for people who work because they do not have time to attend an institution. Instead, they can learn when and where it is most convenient for them.
A 'cloud' is becoming the main trend of electronic education these days. A student gets access to education courses from any place in the world via the Internet. The sole requirement in this case is high-speed Internet access. A lot of people have such Internet access today; at least those who want to study and work at the same time. On the other hand, it can easily be the case that a person is on holiday or lives far from big cities, where Internet connection is not very good. In this case, the person can download an electronic course to her/his computer so as to study it later.
In this world, electronic educational information is a must-have product for the market. That is why the issue of protection of such information against uncontrolled distribution or, simply speaking, piracy, is put in the forefront.
We will consider several examples of how software education systems are used, as well as some related issues of documents security, protection of electronic courses, textbooks, workbooks, pdf protection and ppt protection.
A school, a college, a university
The students get access to an electronic library of an educational institution. The library contains a large amount of electronic educational information. Each piece of information has an author who has contributed a lot to create the course. An institution usually buys such courses and can, in turn, sell them to students by the piece. However, it is often the case that the teaching staff of an institution creates the electronic courses themselves and introduces them into the education system of the institution.
An exchange of electronic content between the students flourishes. After a student downloads educational data to her/his computer, she/he can upload it to the Internet or distribute it among friends who are interested. This can result in:
The loss of profit for the educational institution, if it sells the courses to the students for extra charge;
The loss of unique knowledge, if the education courses and data circulate among the students of different institutions;
Damage to the reputation of the course author, if the course contents have been modified by a third party.
And so on.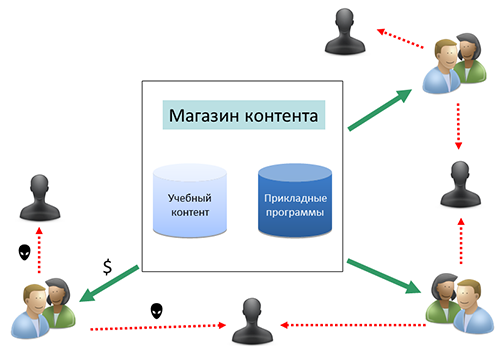 Training centers, business schools
It is obvious that as profit organizations, business schools and training centers are mainly focused on making profit of their activity. What can attract a student better than a unique set of teachers and the appropriate educational information? Most of such educational information is electronic. Leakage of the information, for example, to the competitors can result in a business crisis.
The loss of intellectual property in this business area can pose the following threats:
Unique educational database that belongs to a certain business school may be lost;
The students may go over to other institutions;
The information may be used by people who do not attend that particular business school;
A teacher's reputation may be damaged, and contract with business school may be broken.
And so on.
You can avoid the above-mentioned threats if you implement an elearning security measures in a good time.
LMS developers and integrators
The companies that develop and deploy Learning Management Systems in the institutions and organizations should pay much attention to the security of information and personal data that a system stores and processes. This is the requirement of both a potential customer and the state. It is necessary to check that there is no information leakage within the security circuit of the system as well as outside of it.
The main internal threats are:
Uncontrolled information copying to an external storage, by students of the institution;
Print Screen and information printing;
Spyware and viruses that allow a violator to access the electronic archive of the organization from outside.
Consequently, the above-mentioned actions can result in educational information leakage or damage to the reputation of the institution.
The main threats are connected with the actions of outside subscribers who get access to the electronic library of the institution from outside:
The obtained information may be uploaded to the Internet;
A subscriber may exchange the information with friends and acquaintances;
A subscriber may use the information for private ends, for example, in private work experience.
Thus, the deployment of a elearning security system to provide document security, protect electronic content against uncontrolled distribution, unauthorized viewing and usage can significantly reduce the threats described above. It is highly important to note that information within an organization should circulate and be stored in a protected form, so that if it is stolen, unauthorized users cannot get access to it. This can save money and time for the deployment of such security systems as DLP (Data Loss Prevention or Data Leak Prevention).
Developers and authors of the electronic courses
The companies and private persons that develop and sell electronic courses should have an efficient tool to protect their investments. Having invested time and money in the development of an electronic course, you cannot be sure that the content would not go to the Internet after the first sale, where it could be downloaded without control. In other words, protection against piracy is important for you.
Your benefit from implementing an elearning security system that protects against illegal distribution is that the pirated versions of the products enter the market after a certain period of time. It is enough to sell a large amount of licensed copies and cover the expenses for the course development, protection, support and marketing.
The diagram below illustrates it best of all: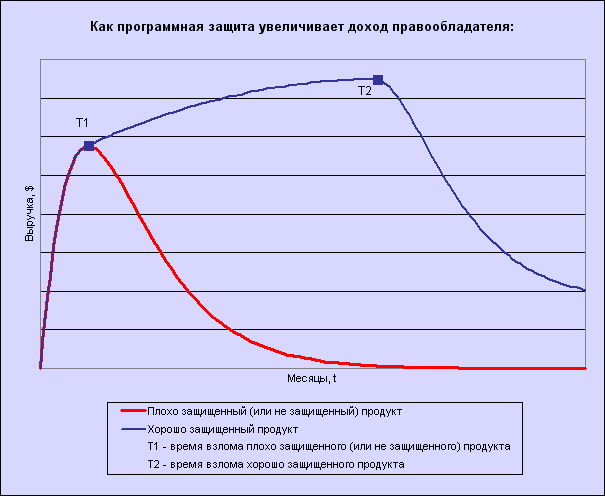 While an unprotected product stops bringing profit quite soon and its legal sales drop, the protected product still sells and earns profit for the rightsholder.
Conclusion
If you work with electronic information you should always remember that, because of its nature, it is often subject to copying and uncontrolled distribution. The government has issued a number of legislative acts and demands that those who use electronic information should protect it. There are various technological means of protection of electronic educational information. They can not only provide protection, but also control the information usage.
It is in the interests of the LMS developers that the information used in their applications is protected, and that the clients are sure the users use it properly.
Universities, secondary schools, business schools and training courses – they all use large LMS systems as well as arrays of electronic educational information containing unique educational data that increases the appeal of an institution. Uncontrolled distribution of such data beyond the institution can have a great impact on the natural course of things and cause a crisis.
The profit of the developers of electronic education courses depends, first of all, on the number of legally sold copies of their courses. Thus, an efficient protection against piracy is a matter of survival for their business.
About StarForce Technologies
StarForce Technologies (www.star-force.com) is a leading vendor of information protection, copy protection and code obfuscation solutions for software, electronic content and audio/video files. Since 2000, StarForce has been successfully developing and implementing its state-of-the-art security solutions, providing copyright and intellectual property protection worldwide. Two of these solutions were transformed into StarForce cloud services: sfcontent.com protects e-Documents against illegal copying and distribution and sfletter.com secures emails.
StarForce is a reliable and responsible Technological Partner for enterprises potentially incurring losses due to cyber-gangs, hackers, software piracy, unauthorized data access and information leaks. StarForce's customers are Russian Railways, Corel, 1C, Mail.ru, Aeroflot, SUN InBev Russia, AMD Labs, ATC International, MediaHouse, Russobit M, New Disc, Buka, Snowball, 2Play, GFI, CENEGA, Akella, etc.
Press contacts:
pr@star-force.com