StarForce protects Electronic Document Management
30.11.2007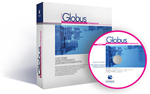 StarForce and "Industrial information systems" companies declare the beginning of cooperation. Globus Professional electronic document management system is protected by StarForce Corporative now.
Electronic document management systems become more popular from year to year. In connection with it there is a problem of protection of the information, differentiation of user rights and safety of corporate storehouse on the whole. It is very difficult to guarantee confidentiality in conditions when many users work with hundreds documents and gigabytes of information in the one electronic document management system.
It is possible to manage user access to corporate storehouse in Globus Professional electronic document management system by StarForce Corporative solution now. That product let control access to important information and establish rules for user groups. The system supports both traditional and expanded user rights sets. Besides there is a possibility to limit the period of use and maximum number of protected applications running simultaneously in the system.
«We have thought how to achieve maximal safety when using electronic document management system for a long time. And we came to the conclusion that we need a reliable partner company who has already proved itself in information and software protection sphere. We estimated the reputation of developers of protection systems, their products' cost and technical support services when choosing. As a result we understood that StarForce is the best partner who meets all our requirements», - as CEO of "Industrial information systems" Andrew Petkevich says.
«We are glad to begin the cooperation with "Industrial information systems", one of the leading developers on the market of electronic document management system. We hope our partnership will be mutual», - Julia Titova, Director of Russia/CIS Department of StarForce company comments.
About StarForce Technologies
StarForce Technologies (www.star-force.com) is a leading vendor of information protection, copy protection and code obfuscation solutions for software, electronic content and audio/video files. Since 2000, StarForce has been successfully developing and implementing its state-of-the-art security solutions, providing copyright and intellectual property protection worldwide. Two of these solutions were transformed into StarForce cloud services: sfcontent.com protects e-Documents against illegal copying and distribution and sfletter.com secures emails.
StarForce is a reliable and responsible Technological Partner for enterprises potentially incurring losses due to cyber-gangs, hackers, software piracy, unauthorized data access and information leaks. StarForce's customers are Russian Railways, Corel, 1C, Mail.ru, Aeroflot, SUN InBev Russia, AMD Labs, ATC International, MediaHouse, Russobit M, New Disc, Buka, Snowball, 2Play, GFI, CENEGA, Akella, etc.
Press contacts:
pr@star-force.com