Bars Group highly rated StarForce solutions for information protection
11.07.2013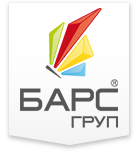 Bars Group, leader in development of components for Russian e-government, made an expertise of StarForce software solutions and highly rated its capabilities.
Specialists of Bars Group examined protection solutions for software source code, email messages and licenses management system. Experts rated two StarForce solutions: StarForce ProActive which can protect any software from copying with technologies of source code obfuscating and its encoding, and StarForce Email which protects email messages from third-party viewing and copying for confidential information safety. Solutions were reviewed for determine its capability to support e-government components extremely safe.
Information security is a foreground direction for Bars Group because its solutions are used in big local and federal IT-projects. Now Bars Group products are used by over than 12 million consumers. There are such clients of Bars Group as Russian Ministry of Finance, Emercom of Russia and so on. Information that's transferring through IT-channels of government financial structures, public utilities, medical and educational structures and then processing by Bars Group systems has extremely high value for government management and society. And such high responsibility demands be in contact with information security experts from the company.
StarForce solutions always have been directed on the protection from the copying. In the government sector information leak can provide serious economical, political threats. Creating of security systems for protecting the e-correspondence from copying, confidential and strongly confidential is a key direction in the e-government components development.
Bars Group experts noted high level of cracking resistance of StarForce protection systems. Main benefit of StarForce is a fact that confidential information won't be available for viewing to cracker even channel cracking was successful.
StarForce is a leader in development of software for protection of all types from copying. Avowal from leader of whole Russian IT-market is a prove of right direction for StarForce business.
About StarForce Technologies
StarForce Technologies (www.star-force.com) is a leading vendor of information protection, copy protection and code obfuscation solutions for software, electronic content and audio/video files. Since 2000, StarForce has been successfully developing and implementing its state-of-the-art security solutions, providing copyright and intellectual property protection worldwide. Two of these solutions were transformed into StarForce cloud services: sfcontent.com protects e-Documents against illegal copying and distribution and sfletter.com secures emails.
StarForce is a reliable and responsible Technological Partner for enterprises potentially incurring losses due to cyber-gangs, hackers, software piracy, unauthorized data access and information leaks. StarForce's customers are Russian Railways, Corel, 1C, Mail.ru, Aeroflot, SUN InBev Russia, AMD Labs, ATC International, MediaHouse, Russobit M, New Disc, Buka, Snowball, 2Play, GFI, CENEGA, Akella, etc.
Press contacts:
pr@star-force.com